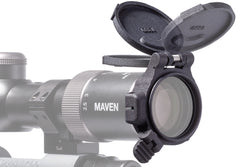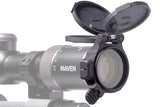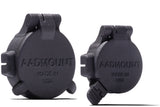 Riflescope Flip-up Lens Caps
Made from lightweight modeled plastic, the Riflescope flip-up lens caps provide quick-access to your scope, while protecting your optics from dust and debris when closed. These durable spring-loaded caps resist opening accidentally and open a full 270 degrees so your turrets are easily seen.
The caps mount directly onto the ocular and objective end of all RS.1, RS.3, and RS.4 Riflescopes. 
-Includes: ocular and objective caps
-Weight: 1.5 oz