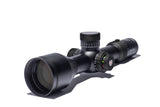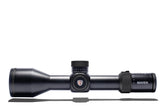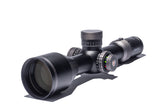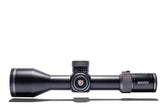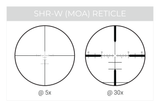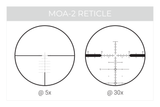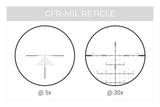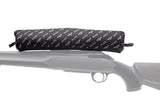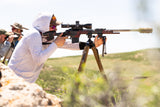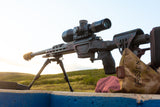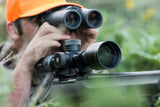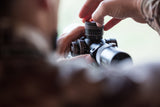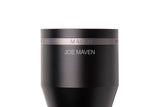 Competitive shooters, long range enthusiasts, and long range hunters demand a level of precision that is not found in standard hunting and target scopes. The RS.4 Riflescope was specifically designed for those who require maximum precision when minor adjustments can make all the difference.
This purpose-built rifle scope features a first focal plane, 5-30x zoom range, side parallax adjustment, 4 level red and green reticle illumination, and the option for MOA or MIL-based reticles. Mechanical zero stop with positive stops ensure a return to your original zero after every dial. With a broad magnification range and precision dialing capabilities, the RS.4 is our recommended rifle scope for precision rifle shooting competitions and long range enthusiasts. 
Just like all rifle scopes in the RS Series, the RS.4 features crystal clear ED glass for tack-sharp clarity, a silky focus mechanism, precision-milled adjustments, solid click detents, and durable anodizing to resist heavy use.

The Maven RS Series represents our elite line of rifle scopes, designed to fit your specific needs, delivered for a fraction of the cost to comparable rifle scopes and stacks up with the most celebrated and expensive scopes in the world. Our modern sportsman inspired designs paired with the best available materials and state of the art technology create an uncompromising optic that meets the demands of the modern hunter.
Includes neoprene cover.

HIGHLIGHTS
-Premium Model
-Size:  12.8 in.
-Weight:  35.4 oz.
-First Focal Plane
-0.25 MOA/click or 0.1 MRAD/click
-No-Shim Reset-able Zero Stop
-4 reticle options: SHR-W (MOA), MOA-2 (MOA), SHR-W (MIL), and CFR-MIL (MIL)
-4 Level Red and Green Reticle Illumination 
-34mm Tube
-Extra-Low Dispersion ED Glass
-Exceptionally Clear, Bright, High Contrast Image
-Excellent Color Fidelity
-Phase Correction Coating 
-Waterproof and Fog Proof
-Lifetime Warranty
-Direct to Consumer / No Retail Markup


RS.4 MOA

RS.4 MIL
Focal plane
First
Magnification range
5x - 30x

Obj. lens diameter
56mm
Tube diameter

34mm / 1.34in

Objective outer diameter

65mm

Eyepiece outer diameter
42mm
Overall length
325mm / 12.79in
Weight (without battery)
35.4oz / 1004g
Internal adjustment range (MOA/MIL)
     Travel Elevation
120 MOA

35.5 MIL
     Travel Windage
50 MOA
14.6 MIL
Click value
0.250 MOA
0.1 MIL
Adjustment per turret revolution
25 MOA

10 MIL
Parallax adjustment
15y - Infinity

Exit pupil diameter
@5x: 8.9mm
@30x: 1.9mm
Eye relief
@5x: 78-92mm
@30x: 86-92mm
Field of view @ 100y
@5x: 23.3ft
@30x: 3.9ft
Front/Rear mounting length
F: 61mm
Effective objective lens diameter
@5x: 44.5mm

@30x: 56mm

Field of view
@5x: 4.46

°

@30x: 0.74

°

Field of view, apparent

@5x: 22

°

@30x: 22

°

Diopter correction (dpt)
+/-3

Light transmission
91.84%

Twilight factor

@5x: 16.73
Functional temperature

-4°~158°F

Submersion tightness / waterproof rating
3m depth

Gas purged
Nitrogen

Reticle construction
Etched Glass
Reticle options
MOA-2 / SHR-W

SHR-MIL / SHR-W / CFR-MIL
Illuminated reticle Y/N
Yes
Red/Green
Origin
Made in Japan