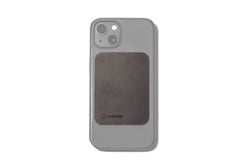 The MagView Phone Plate is the heart of the MagView system. Incredibly thin and weighing in at less than half an ounce, you will never know it's there. Secured with a simple adhesive, attach the plate to the back of your phone or phone case and you'll be forever ready to click into the S1 or B1 adapters.

Made from stainless steel, the plate will not impede signal receptivity – a key benefit of the MAGVIEW system. The magnets live in the adapters, not on your phone.

Includes 3 phone plates.

Learn more about MagView at magviewgear.com. 

*Please note the MagView Phone Plate is not compatible with wireless phone chargers