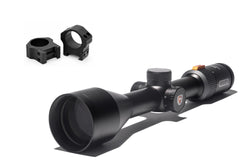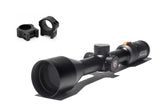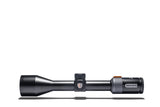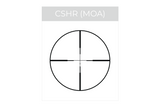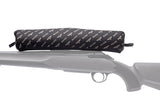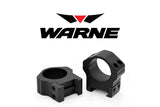 The CRS.2 Rifle Scope Bundle is your one-stop shop for your all purpose rifle scope needs. Paired with Warne Maxima Picatinny Rings, this kit is ready-made for your favorite rifle. Save $50 when you purchase this bundle. Not available for additional promotions.

For those that need that extra reach, this 4-16x riflescope features a side parallax adjustment, a compact tube base, and a larger 44mm objective to grab every ounce of critical light. Featuring our award-winning C Series glass, the CRS.2 offers an exceptionally clear, bright, and high contrast image with excellent color fidelity. This scope delivers high performance in a more compact configuration and easily fits the bill for eastern and western big game hunting scenarios where higher magnification is needed.

Bundle includes: 
-CRS.2 Riflescope (with neoprene cover)($550)
-Warne Maxima Picatinny Rings - 1" Medium ($70)
Learn more about the CRS.2 Riflescope

Note: International orders may have restrictions or take additional processing time. Contact us if you have any questions or need additional information. 
Focal plane
Second
Magnification range
4x - 16x

Obj. lens diameter
44mm
Tube diameter

25.4mm / 1in

Objective outer diameter

52.6mm

Eyepiece outer diameter
39.4mm
Overall length
295mm / 11.61in
Weight (without battery)
16.9oz / 480g
Internal adjustment range (MOA)
     Elevation MOA
total 45 MOA

     Windage MOA
total 36 MOA
Click value
0.250 MOA
Adjustment per turret revolution
18 MOA

Parallax adjustment
25y - Infinity

Exit pupil diameter

@4x: 9.3mm

@16x: 2.8mm

Eye relief

@4x: 65-88mm

@16x: 63-80mm
Field of view @ 100y
@4x: 25.6 ft

@16x: 6.4 ft
Front/Rear mounting length
F: 50.8mm
Effective objective lens diameter

@4x: 37.3mm

@16x: 44mm
Field of view

@4x: 4.88°

@16x: 1.22°

Field of view, apparent

@4x: 19.5°

@16x: 19.5°

Diopter correction (dpt)
+/-2

Light transmission

88.00%

Twilight factor

@4x: 13.27

@16x: 26.53

Functional temperature

-

4

°~158°F

Submersion tightness / waterproof rating
3m depth

Gas purged
Nitrogen

Reticle construction
Wire
Reticle options
CSHR

Illuminated reticle Y/N
No
Origin
Made in Japan