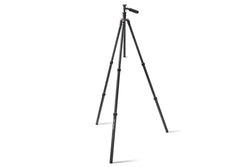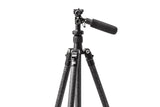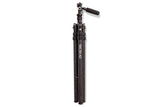 The Tricer-AD is a fully functioning sit-to-stand tripod. Utilizing an inverted leg design the 33oz AD is the strongest tripod in its class. Long gone are the days of using a photography tripod with pencil-thin legs on the ground. The inverted AD has a 3-section leg with the largest 1 1/8" leg on the ground a 1" in the middle and the thinnest 7/8" leg at the head. This revolutionary backcountry tripod will easily handle any optic or rifle you put on it. The AD proves you can go ultralight without sacrificing stability. 
-Includes: Tricer-AD Tripod, Tricer-LP head, and the Tricer-AP Arca plate
-67.25" fully extended
-26.25" compressed down
-8x carbon fibre construction 
-Holds up to 26.4 lbs.
-Combo weight: 37.8 oz.